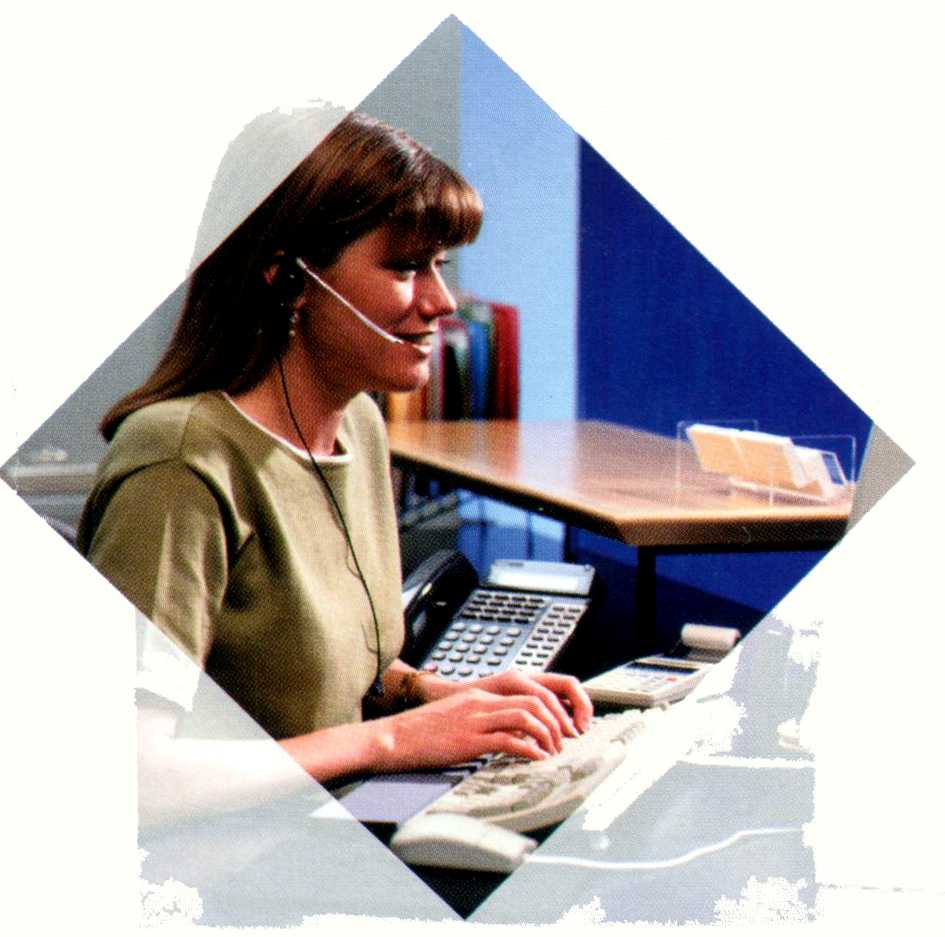 Your Messages Deserve the Best of Both Worlds:
Professional Operators & State-Of-the-Art Computer Capabilities
No More "Sorry, we can't come to the phone just now...."
At Total Recall Message Center, we answer every call with a live operator. Each has been trained to follow your instructions and to handle any situation as professionally as your own staff. Total Recall operators enter your calls as text into our central computer. You have multiple options in retrieving your messages: call us at your convenience or have us forward your messages to your office or to your pager, voice-mail box, E-Mail (Coming Soon!), computer or fax machine.
Emergency calls? Total Recall's complete system includes an emergency paging system which can be customized to meet your specific needs.





ADDITIONAL FEATURES:
PRECISION THROUGH TECHNOLOGY- Our system allows us to have up to 999 pages of information on how you want us to handle your calls. This allows our secretaries to handle your calls precisely and increases your customer's satisfaction.
PAPERLESS MESSAGING- Your messages are typed directly into a custom designed electronic message form and saved right to your screen. Your messages will never be given to a competitor or misplaced. Never again hear an operator say "I'm sorry, I just can't read Susie's writing." when you check in for an important message.
TOLL FREE SERVICE- A toll free number is assigned to your account so that your calls can be answered by our service without long-distance charges. A seperate toll free number is also assigned to you should you need to check-in for messages.
BILLING- Billing is based on the number of incoming calls on your line. We do not charge for check-in calls, faxes, or when we contact you. We do not bill by time. Services that bill by time will often have operators lengthen the call in order to increase your charge.
FAX MESSAGE DELIVERY- Messages and/or orders taken by the service can automatically be delivered via fax to any location either at a scheduled time or on request. E-Mail Message Delivery is coming soon!
PERSONALIZED ACCOUNT GREETING - We can record detailed greetings for your callers. They hear this recording before reaching an operator to simply screen out calls that can wait until the next business day.
SECURITY- Our operators have signed a non-disclosure non-compete agreement. They are also drug tested and continuously monitored to ensure excellence. All calls are recorded to our NEW recording system which allows us to replay the entire call up to 30 days after the fact.
SAFETY- After you receive a message it remains on your screen for 5 days then stored for up three months on our main computer. After that it is stored on CD for an extra 9 months. Lose a phone number? We can retrieve these messages for you with very little notice.